Strapping, which is also known as bundling and banding, is the process of applying a strap to an item to combine, stabilize, hold, reinforce, or fasten it.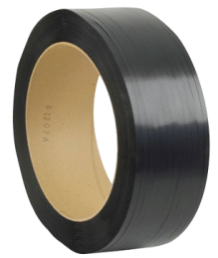 Polypropylene strapping
The least expensive and most common material used in regards to strapping due to its light nature and easy application. This strapping allows for high elongation and recovery with low retained tension.
Machine, similar to semi-automatic with higher volumes, automatic machines, hand, palletizing, lightweight package reinforcement, hand manual tools, power tools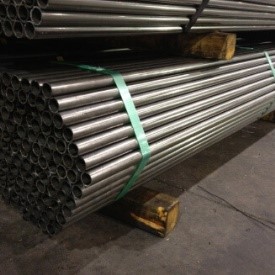 Polyester strapping
Polyester strapping is considered to be the most rigid due to its ability to elongate significantly less than polypropylene while retaining its tension over a long period of time. Polyester strapping can be sealed using heat, friction welds, etc. It is also nick resistant.
Machine, automatic machines, fully automatic strapping systems, hand, heavy duty palletizing, as a substitute for steel, manual tools, power tools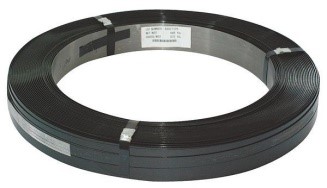 Steel strapping
The strongest variety of strapping and is therefore used for the most demanding, heavy-duty applications.
Regular Duty Steel Strapping
Regular duty steel strapping is manufactured from cold rolled steel.  All regular duty steel can be used in manual and pneumatic tools, as well as automatic steel strapping heads.
High Tensile Steel Strapping
High tensile steel strapping is manufactured from cold rolled steel and heat treated to maximize break strength and ductility. High tensile steel provides additional break strength and shock resistance for your toughest applications.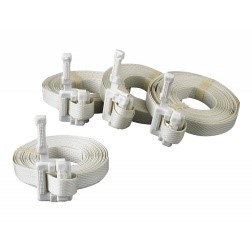 Buckle Strap
Strapping cut to length in 17' rolls or and custom lengths with buckles attached for palletizing. Available in metal or plastic.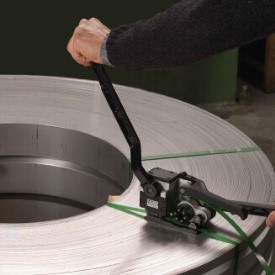 Strapping Tools
Slide the other end of the plastic banding through the cutter assembly and through the tension wheel. Use the handle to tension the plastic banding by moving it back and forth. Place the two plastic bands into the seal through the open end. Open the crimping tool and place over the seal.  Tough, durable, and priced very competitively, making them an exceptional value.